The Problem with Gold
It's glittery and gorgeous but the process of getting it is really not good
WARNING: there are some descriptions of malpractice in the mining industry in this piece you may find distressing.
Gold! Always believe in your soul. You're indestructible!
Ah Spandau Ballet. Just putting that little ear worm in your head, because like most 80s pop stars they were on to something. Gold is indeed almost entirely indestructible, and of the 208,874 tonnes of gold that has been mined throughout our human history, all of it is all still around, sitting in vaults, making up parts for technology, figuratively bobbing up and down in the commodities market and passing through a highly complex chain of custody, on to your neck or your arm. 
We all love gold, its meaning and magic. Love, betrothal, friendship, wealth, desire, belonging: gold is used to say so many things about us as humans. But while it is perfectly possible to grow a field of cotton or rear a herd of sheep in an ethical and regenerative way, the same cannot be said about gold.
Here for the first time? To receive regular posts and support my work, you can sign up to become a free or paid subscriber.
Let's start with extraction: BoF and McKinsey published a report stating that 250 tonnes of earth is displaced in order to extract 1 carat of gold. To give you an idea of what that looks like (numbers, numbers) over 5 years this would amount to 1.5 Mount Everests. So a lot. 
Artisanal, or small scale, gold mining accounts for 37 per cent of mercury emissions, where it is used to extract gold from ore. Exposure to mercury poses serious health risks including seizures, loss of sight and neurological damage. Meanwhile, the polishing process emits 160kg of CO2 per carat, while 2 tons of waste are generated for every 9g of gold. Oh, and workers are sometimes paid just $3 a day.
Many jewellery brands now promote recycled gold as a solve for this, and why not, as there is more than enough gold in the world right now to put a stop to mining right away. But the supply chain around recycled gold is fraught with problems. Recycled gold contains a plethora of nefarious sources: it could be stolen, (see the Brinks Matt robbery), it could be from conflict affected areas, from countries currently under sanctions (eg Russia), or it could just be pre 2012. This was a watershed year in the gold industry as it was when accountability in supply chain and international standards were rolled out. Before 2012, your gold could have been mined from a child choking on mercury at the bottom of a shaft and you would never know.
Even so, it is almost impossible to trace a present day recycled gold supply as the metal passes through so many hands. "It's like a rabbit hole," says the jeweller Monica Vinader. "The more you go down, the more you discover. Gold from anywhere from the Congo to a pawn shop gets in there."
There is currently some tension in the industry about what best practice is: a single artisanal mine where you can track the journey and chain of custody and support a community that relies on the mine for its livelihood (at whatever cost to the environment), or an opaque recycling process where we make good use of the gold we have already plundered. Either way, you can imagine that the big companies aren't keen on making too much of this when it comes to flogging you a £10,000 necklace on the back of Beyoncé.
"Ethical and sustainable jewellery are two very different things," says Tania McNab of ethical jewellery platform La Maison Couture. "Ethical is about the people who make it, about traceability, fair pay, good labour practices; recycled is about a more sustainable way of making: about using materials that exist rather than creating deep holes in environment."
Tania pivoted La Maison Couture to ethical and sustainable brands after coming across compressor mining, which changed her view on everything. "It was shocking," she said. Practised in the Philippines, (where it is illegal), compressor mining involves the digging of a small shaft in the ground, probably no more than a metre in diameter, but with a depth of 30-40ft. Then very small children, (who are taken out of school) are sent down with a plastic tube to breathe, holding onto the sides of shaft. Under the water table, they use the tube to breathe and are tasked with collecting the mineral rich soil from the walls of the shaft, which typically contains tiny fragments of gold. A compressor sits at the top of the shaft to pump the air. "It is the most dangerous form of mining in the world," says Tania. "Change to the water pressure, an unstable shaft wall, a faulty compressor, carbon monoxide poisoning - so much can go wrong." Children's bodies are often pulled up.
"As a retailer I had to reconcile showcasing a piece of luxury jewellery that may have been produced in far from luxury conditions. I realised my showcase needed to support better practises."
Today, La Maison Couture is a platform for independent brands whose approach is marked by Positive Luxury against a 5 point criteria - ethical production, artisanal collaboration, positive impact and traceability and responsible sourcing. "I feel very strongly that the way forward for jewellery is not mining new materials - it's all about recycled. We often don't know what's in the gold or where it comes from; but that deed was done a long time ago. If you're making jewellery now, your responsibility is not to create even more damage."
So how to support the small artisanal mining communities that need trade to exist? Earthbeat is a foundation that helps those communities transition to new commercial models. In Busia, Uganda, Earthbeat has helped one community set up an alternative revenue stream with agricultural skills and beekeeping. They have closed the mine, filled it in, and begun planting to remove the toxicity from the soil: coffee and passion fruit will contribute the right nutrients to repair the soil before the community can start replanting. In the meantime, there are bees and honey.
Tania loved this project as she is a beekeeper herself ("fascinating little creatures and so rewarding") and has worked with London designer Tomasz Donocik to design necklaces in the shapes of local Ugandan leaves, with all profits going to Earthbeat.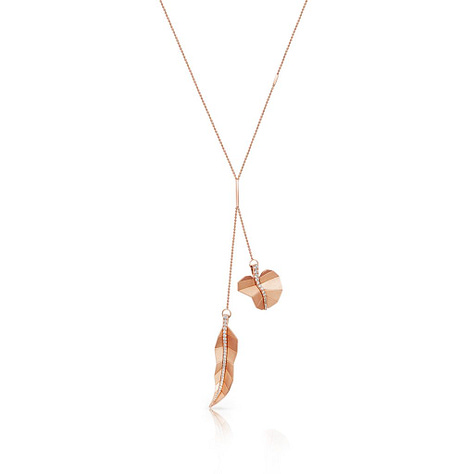 Monica Vinader also has skin in the game. "Before I set up my company I lived in Argentina and ran a fly fishing lodge," she says. "It was in a pristine place, as trout need crystal clear water to spawn, but it soon transpired that a gold mine operating over the border in Chile was throwing dirty water into the river making it impossible for the fish to survive. Mercury pools were leaking into the environment and people were getting sick, so the mine was closed. A lot of people lost their jobs - we hired some of them as managers for our fishing lodge. But I saw first hand the unbelievable damage a gold mine can do."
Monica now issues digital passports for many of her pieces, that track a supply chain of recycled gold and traceable stones, from refineries which she has managed to have conversations with about best practice.
What has the industry been doing all this time? For years the Responsible Jewellery Council was the basic standard, issuing certifications which certainly helped improve working conditions in factories and mines. But when sanctions closed in on Russia last year, Alrosa, the big Russian mining company, refused to step down from the board, resulting in the resignation of the Chief Executive and dissolution of the council. The governance has now changed - Richemont and Kering have rejoined, but in the meantime the Watch & Jewellery Initiative 2030 has been set up with Pandora, Richemont, Kering and others on board. "This is where brands can share best practises," says Monica. "Even Cartier has the same stumbling blocks as us. As a group we are sharing experiences and agreeing on certain initiatives - we have ambitious agendas and are making strides."  
There is much to admire in what Monica has achieved. "We adopted recycled silver and gold because we believe the environmental damage of mining is worse. Refineries still pollute and we are constantly talking to them about how to improve practises. We recognise we need to do better and by coming out, we have opened ourselves  up to criticism, but this is when change happens. The more consumers get behind recycled, the more power we will have with these bigger groups."
"Jewellery is such a considered purchase," says Tania. "People often buy it for a moment, it is celebratory. The story behind it needs to be as beautiful as the piece. If you go into mainstream brands I don't see anything behind the pieces, it's vacuous. If, for instance, I buy Makal I know its come from a single alluvial mine [where the gold is panned, not mined] and I have a story to tell. But a household name bangle? I know nothing about that other than it's on the front cover of Vogue and everyone else is wearing it."
Want to know Tania's five favourite pieces? My lovely paying subscribers can see them below. If you like this newsletter and value the research and information, you can always upgrade to paid, it's only £1.50 a week.
This post is for paid subscribers